Located in the heart of Ireland, Mullingar, Co. Westmeath boasts musicians like Niall Horan, Bressie, Joe Dolan, Emmet Cahill, Eurovision winners, The Swarbrigg Brothers and The Aftermath to name but a few as well as hosting the next All-Ireland Fleadh, to say it's steeped in music is an understatement! But the musical aspect to this lakeland town is just the tip of the iceberg. If you're looking for a short getaway break, here's what you should know.
Located just 55 mins from Dublin and 1.5 hours from Galway this is one break away that will not disappoint!
Where to stay
The Annebrook House Hotel, with it's central location and its bedroom options – executive bedrooms, champagne suites and a complex of two-bedroom family apartments has made it a very popular location for those coming to experience all that the midlands has to offer. Although centrally located in the heart of Mullingar, it overlooks 10 acres of parkland so visitors get the best of both worlds. Although a hot chocolate may not normally be the hightlight of a bar! – Berty's Bar serves up the best we've had in a long time. Without giving too much away we're simply going to say, try it for yourself and thank us later! Formal dining takes place in 'The Old House Restaurant' which has the name suggests is situated in the old house section of the hotel – an old listed building the restaurant has great atmosphere the food is top class. You'll be tempted to stay the night in the Old House Bar with the piano playing in the background and the most comfortable of surrounds. For those of you who want to just relax, this is the perfect option but Mullingar itself has lots to see and do so don't get too comfy!


Another great and central accommodation option is The Greville Arms Hotel in the heart of the town which is home to some of Niall Horan's memorabilia and it's restaurant gets it's name from James Joyce's book 'Ulysses' where Joyce himself stayed during his writing of the much celebrated novel. However, just 5km from Mullingar, Lough Ennell Camping & Caravan Park is the answer for the caravan or camping enthuasist. With a range of facilities including café & takeaway, children's playground and electric hook-ups, Lough Ennell offers an abundant and varied catch while swimming, canoeing, sailing and windsurfing are also on offer for the active type.
For the activity enthuasist!
Tullaghan, Mullingar offers a beautiful woodland championship 18 hole pitch and putt course located 5km from Mullingar which will appeal and cater for all ages and standards, from beginners to professionals. Footgolf is a new, fun activity at Tullaghan. Search 'Tullaghan', Co. Westmeath on Google Maps for their location and all enquiries can be directed to David on 087 280 1350.
We visited the magnificent lakeside estate, Belvedere House & Gardens which boasts a fully restored Georgian Villa built in 1740 by the famous Architect Richard Castles for Robert Rochfort. The estate has a fascinating Victorian Walled Garden, with one of Ireland's finest collections of rare plants. The 18th century parkland is punctuated with Romantic Follies including the largest in Ireland; "The Jealous Wall". Whether you are part of a gardening group, historical society, school tour, active retirement association, family gathering or group of friends, a visit to Belvedere is a superb day out with a difference and they have a calendar of events throughout the year also.
If a more adrenalin filled activity is what you're after Derrymore Springs encompasses an Aqua park., kayaking, Aqua golf, Tyre ball, Raft building, Archery, Fishing, Pedal boating and Nature walks. Set in an exclusive location, this is an oasis set amidst farmland in a remote rural setting where you can have fun and frolics out on the water. Whether your there for a team building challenge or a more relaxed activity-based day with family and friends you can finish off the day with a BBQ or picnic in this relaxed and tranquil setting.


It would be remiss of us not to mention the Mullingar-Athlone Greenway which is well worth experiencing. For a beautiful, scenic and safe, family friendly cycle route, the cycleway is intended for leisure activity and is ideal for this purpose, passing through the scenic landscape of County Westmeath via the villages of Castletown Geoghegan, Streamstown and onto the town of Moate before arriving in the Shannon side town of Athlone. Running alongside the existing Mullingar-Athlone railway line, this is one activity that is worth exploring.

Eat some of the finest food!
There are tons of great food options in Mullingar and surrounds but if you feel like honing in your own cooking schools while in the picturesque village of Multyfarmham, the Multyfarnham cookery school runs a variety of hands on cooking classes. The award winning School, run by Chef Kamalika includes a Spanish night, Italian, Asian,Thai, vegetarian, seafood, basic cooking and bread making. Learn to cook delicious food in a fun way!


For a dining experience in a converted 200 year old former Presbyterian Church, the Church Restaurant located in the centre of Mullingar is ideal! You can just pop in for a coffee and a chat, but breakfast, lunch, snacks and evening meals of the highest standard are also on offer. For great food, friendly service and great value in a unique setting, The Church Restaurant is highly recommended.
If something spicer tickles your taste buds (excuse the pun!), Spice India Restaurant is a place where families, couples and friends come to enjoy great food in a laid back environment. Rated highly on Tripadvisor, Indian, Balti, Asian and European Food along with Vegetarian and Vegan options are served and an Earlybird menu is on offer before 7 pm every evening. They also offer a takeaway and delivery service.
Like us, if you prefer something sweeter, Kilbeggan Chocolate draws on over 100 years of rich heritage and manufacturing. They make hand-made chocolates using only the finest ingredients. Transforming the humble cocoa bean into a mouth-watering extravaganza is a subtle blend of art and science. Kilbeggan Handmade chocolates are wholly unique because they make chocolate with their own beans in their own facilities.
Last but not least of our favourite food and drink choices was the Kilbeggan Distillery Tour – the oldest licenced whiskey distillery in Ireland. Est. 1857. See the oldest pot still in Ireland still working, the iconic water wheel, or how their famous whiskey is still made using the traditional methods and taste some for yourself!
Shopping, Gifts and more…
Day two of our trip encompassed lots of shopping! Lakepoint Retail Park is host to IMC Cinema while Woodies DIY, Harry Corry's, Elvery Sports, DID Electrical, Homesavers and Maxi Zoo are all located there. If you do bring the car there is plenty of free car parking spaces available.
With shopping all under one roof is Fairgreen Shopping Centre – here we picked up lots of bargains at TK Makk which is home to well-known high street brands, while Penneys, New Look, Elverys, Dealz, DV8, Burtons and Costa Coffee are all under the same roof within a two minute walk of the town centre and five minutes from the main train or bus station making it easily accessible for customers. They also have ample parking available in both the outdoor and covered car parks.

Mullingr itself however, has lots of great independent clothes shops, gift shops or for the book worms among you, Just Books, has for many years been the treasure chest of books in the Midlands. A small book shop with big impact and appeal from the minute you step inside. Always friendly and knowledgeable, there is nothing that Stella and her team won't find if it's not in stock.
If it's a gift you're looking for, Mullingar Pewter could well be the answer. Pewter making was revived in Ireland by Mullingar Pewter in 1974. A visit to the workshop will allow you see the skill of casting, turning, meticulous assembly and delicate hand finishing of pewter pieces by skilled artisans. The Gift Shop has an extensive range of Mullingar Pewter products and gifts for all occasions to suit all tastes and you can even enjoy a cupa while your there!
Also with an extensive range of gifts is Red Earth. One of Ireland's most distinctive lifestyle stores, the home to top brands across home interiors, gifts and food, sister brand to Genesis and Mindy Brownes Interiors. This store brings a retail experience like no other and is often referred to as 'an Aladdin's Cave of beautiful things'. Visit them for breakfast, lunch, dinner or a bubbly brunch at the weekends. Free parking & outside seating.


Dance the night away!
As we mentioned, Mullingar in our opinion, is the music hub of the country and with venues like Smiddy's & The Stables Live Music Venue, Rochforts Music department, cultural centre, Arás an Mhuilinn and more it's easy to see why!
For stage one of our night out Smiddy's on Dominick Street was our first stop! As one of Mullingar's premier music venues, they hold Open Mic every Wednesday, Trad 9-11 Friday, Live Music every Friday & Saturday night and if it's sports you're into, Smiddy's is the place to be for all the big events. In fact singer Damien Dempsey held one of his very first gigs in their Live Music Venue – The Stables.
Arás an Mhuilinn is the Midlands Regional Comhaltas Centre and the cultural centre hosts a weekly schedule of set, sean nós and Irish dancing, traditional singing and Irish language classes for all ages. A Coffee and gift shop are open on-site while they also hold regular seisiún and céilí events. Their Seisiún an tSamhraidh/Traditional Summer Shows are always popular.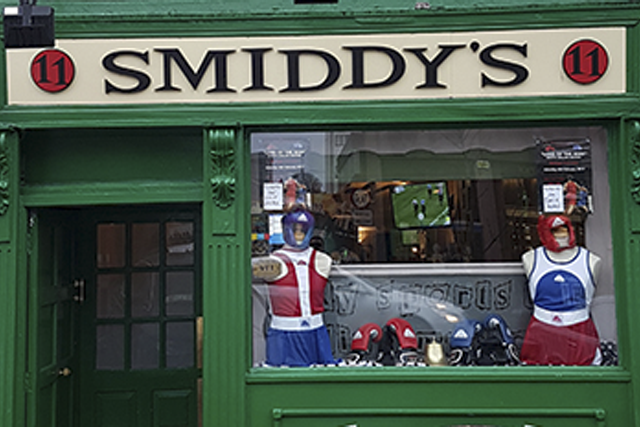 On the subject of music, did you know that Niall Horan, of One Direction fame purchased his first guitar in Rochforts, Mullingar and is a regular visitor when at home. The musical instrument section of the store has attracted some very big names throughout the years, including Bressie, The Blizzards, White Chalk and many more famous artists. A family run business located on one of Mullingar's main shopping thoroughfares, this treasure throve of products offers everything from toys, musical instruments, gifts, grocery, Four Star Pizza, Maple Moose ice-cream parlour and their award winning 99s are a must!